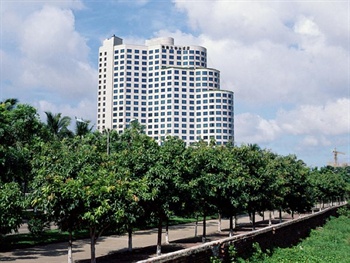 Located in Haikou's financial district, the Meritus Mandarin Haikou (Hainan Wenhua Dajiudian) is a short stroll from a harbor and beach. Two international golf courses are a 15-minute drive away from the hotel, while half hour drive sees guests to an airport.
This Haikou hotel offers guests a wide range of dining choices. Qingsongting restaurant specializes in Cantonese cuisine. The Chatterbox serves decent international fare and there is also Ristorante Bologna Italian restaurant offering authentic Italian dishes.
Guests looking for diversion have several venues to choose from including two fitness rooms, a heated swimming pool, outdoor pool, tennis court, sauna and Jacuzzi.